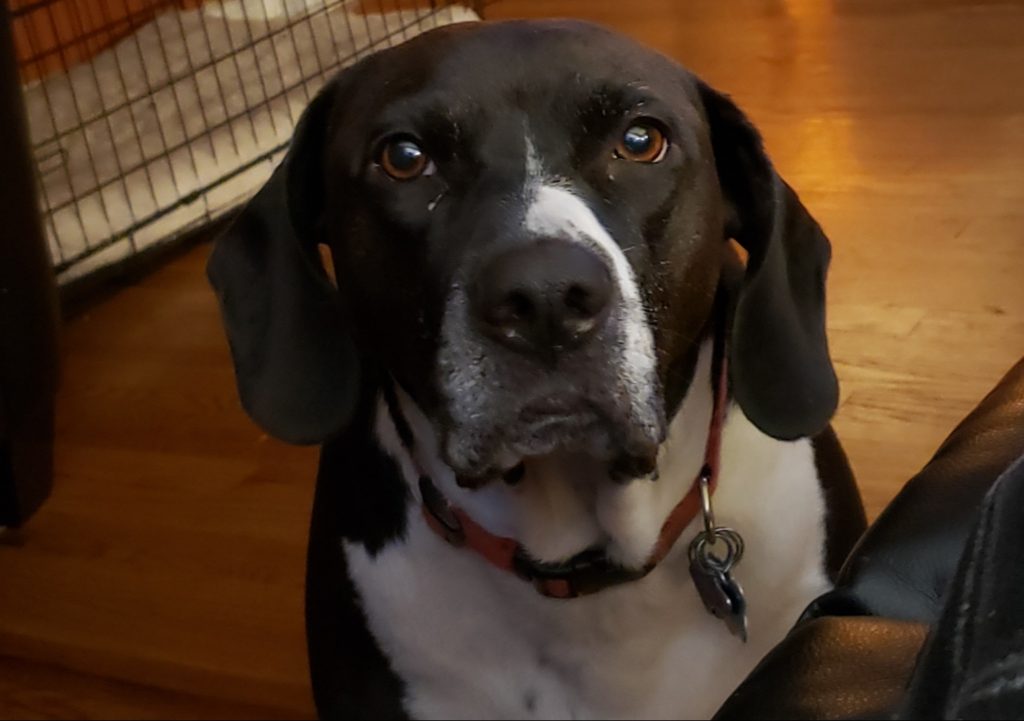 Dogs are amazing creatures and my mutt, Hank, is no exception.
In the first week of July 2019, Karen's condition had deteriorated to the point where all of us involved thought this would be our final goodbye. Hank also became aware that something wasn't quite right in the house and his demeanor changed. On July 3rd, I went to the back door like I always do first thing in the morning to let him out to do his business. But this day was different. He went to the threshold, stopped, sniffed the air a few times, then came back in the house without going outside.
I can only speculate, since I'm not a dog, nor do I pretend to understand how dogs thinks. But I do know that his behavior coincided with what I was feeling. Death seemed present and imminent, like it was surrounding my home, seeking for whom it may devour. Something was amiss.
Over the course of exactly one year (she was diagnosed November 02, 2018. She died November 02, 2019) I had a front row seat to observe Death and the tricks It tried to employ up to the point where the number of her days were complete. I took notes. Here's a bit of what I learned.
As a person of faith, I believe death is the final spirit that holds any remaining power over me. Everyone I know and love will eventually die, myself included. When we got the bad news on Friday, November 02, 2018, I made a decision that day. It was a decision Karen misinterpreted, because she immediately asked me why I didn't seem upset. Worry has the tendency to be intimidated by Peace. One of them will eventually win. I told her it was my choice to decide which one will be victorious.
Throughout the year, my decision to cooperate with Peace would be challenged almost daily. Death didn't seem near yet, but Death commands an army of negative spirits. The chief of these spirits is Fear. When Death gets directly involved, Fear volunteers to go to work offering the only thing it possesses; Fear. In this way, Fear is singular in its threats against me. As a person of faith, I possess other weaponry that I can call up in my defense. I have Love, Joy, Patience, Kindness that are glad to help me take on Fear at any time I need.
In the last six days of her life, Karen was unconscious and unresponsive.  I knew Death was close by.  I felt it stirring.  On the third night of those six, I had five dreams involving the death, including the death of Hank.  But that next morning, I went into her room and sat in the chair that many of you sat in to say your goodbyes. I told Death that even though it would eventually complete Its assignment, none of his other troops would be allowed. Fear, Worry, Doubt, Anxiety and Panic would not be welcome in her room or in my house. 
When the Number of Days were fulfilled early Saturday morning, Death took her body away. I went in to the living room where Hank lay. I asked him if he wanted to go say goodbye to Mom. He looked at me, got up quickly off the floor and ran in to her room, jumped up on her bed and laid his head on her legs.
He was saying goodbye.
He seemed to understand my decision. He and I were not giving in to Fear, even though the grief process was beginning.