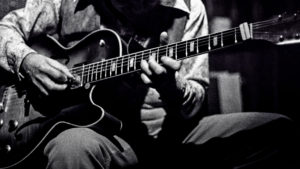 Click to hear, WBOK, by Kevin Shinn ©2015
A film that deeply moved me recently is La La Land.  It hit me at a critical time in my life when I was filled with overwhelming self-doubt, much like the characters Mia and Sebastian felt when they faced difficulty in pursuing their dream of being an actress and owning a jazz club, respectively.
One day while on a walk, Mia comes out and bluntly tells Sebastian that she hates jazz, the music form that he is ready to commit all his effort to preserving by opening his own jazz club.  Incredulous, he takes her to hear a band and invites her into his understanding of the beauty of improv and away from her impression that jazz is just background noise meant to talk over.
I believe this is the most vulnerable part of being an entrepreneur.  To invite another person, let alone the entire world, into your idea and so they can experience it from your point of view is risky.  What if they don't like it? Or worse, what if it's just ignored?  What do you do with that kind of rejection?
But ideas can never come to fruition without that kind of risk.  You see something.  Others don't. Do you believe the idea deeply enough to seek to change their mind?
If no, maybe the idea wasn't very good.
If yes, expect it to be challenged.
Either way, you're going to have to contend with opposition. Craft your story to address it. You will be telling it many times over.