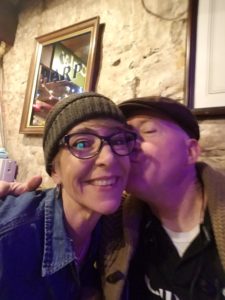 The conversations you don't want to have with a doctor involve the words, "it's pretty serious." I heard those words for a third time yesterday as Karen and I sat in the office of her oncologist in Omaha. The cancer has come back.
The first time I heard them was in May 2010 as I sat in a small consultation room outside the surgical ward in St Elizabeth's Hospital in Lincoln. The doctor had just completed Karen's first surgery and delivered the news that she indeed had ovarian cancer. I can still remember the shock and despair that flooded my body as the doctor left the room. I sat there alone contemplating what I had just been given. Life has now changed as I knew it five minutes ago.
About a year and a half later, the second conversation with the doctor was a similar message. The tumor has returned and it was serious. Here we go again. Round 2. Punch to the gut. Try to catch my breath and make sense of what was to come. All I could think was this wasn't what I signed up for. She's too young. Life isn't fair.
But yesterday's conversation was different to both of us. For one, it was less shocking, more hopeful. Why so?
Experience has a grounding effect. She and I have been through this before and we have learned some lessons through previous tests that serve us well today. Here are a few of those:
Despair does not get to interpret the news nor dictate our responses.
Where I choose to go with this news is up to me. When I consider the number of responses I have available, I find I only get to choose one, so which will it be? Panic and fear are eager and ready to consume me, but so is Peace and Hope. And given the two, I would rather be consumed by Peacefulness and imprisoned by Hope than by panic and fear any day.
Karen and I have a beautiful life together.

We've been through a lot of hell over the years, and you know what they say about going through hell? Move quickly. In the recent years, we've fought her cancer and its recurrence. We've dealt with three business failures together, declaring personal bankruptcy in our 50's. Not the path we would have chosen 28 years ago when we said, "I do." And despite it all, I have a deeper appreciation for the strength of my life partner than ever before. For this I feel most fortunate regardless of the trials that have forged our marriage.

Our faith is secure.

It's amazing what happens when faith gets tested. The principles given to me as a child are given an opportunity to become fully real life experiences. Belief becomes real and tangible when it is tested, even though it may not be visible to the naked eye. Its difficult to describe, but in this way, faith comes closer to sight and it makes it even easier to believe.
I have very little information to present here other than the process begins next week of determining a treatment plan. You can follow my blog here as I chronicle the journey. Writing is part of my personal therapy and it helps me process. Feel free to ask us about it when you see us You won't upset us. Cancer does not get to define us or shape our truest identity.
In hope,
Kevin